Periodontal Disease in Canton, OH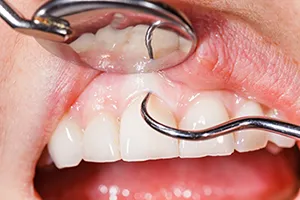 Many adults in the US currently have some form of gum disease. Minor cases of gum disease may only cause inflammation, while more severe cases cause damage to the tissue and bones, resulting in tooth loss.
Gingivitis
Our mouths contain a lot of bacteria. Bacteria, mucus and other particles cause sticky plaque to form on our teeth. If the plaque isn't removed with proper brushing and flossing, it can harden to form tartar. Once plaque turns to tartar, the only way to remove it is with a professional dental cleaning. Regular brushing will not be enough. Plaque and tartar that remain on teeth are harmful. Over time the gums will become inflamed and bleed easily. This is known as gingivitis—a mild form of gum disease. Gingivitis can be reversed by brushing and flossing daily, and with regular dental cleaning.
Periodontitis
If gingivitis is not treated, it can become periodontitis, which causes inflammation around teeth. In periodontitis, the gums pull away from the teeth and form deep infected pockets. Your immune system will begin to fight the infection; however, between the bacteria and your body's defense system, bones and connective tissue begin to breakdown, causing serious damage and tooth loss.
Periodontal Exams
Periodontal exams are vital in the maintenance of your oral health as they are used to assess the health of your gums and teeth. They can help your dentist diagnose gum diseases, gingivitis, and periodontitis. These exams can also reveal receding gums, exposed roots, tooth grinding and other problems, making periodontal exams vital to maintaining proper oral health. Regular dental exams are important as they can reveal evidence of gum disease in its early stages.
During your periodontal examination, your dentist will check:
For any lumps or abnormal areas in the mouth
Whether any of your teeth are missing or loose
The color, texture, size and shape of your gums
Whether you have fillings, crowns, bridges, dentures or implants
How much plaque is on your teeth
The depth of the space between your tooth and gum
Gingivitis is the first stage of periodontal disease that causes inflammation of the gums. Dental x-rays can determine if the inflammation has spread to the supporting structures on the teeth so treatment can be started to correct the problem. Periodontitis occurs when gingivitis goes untreated, which makes periodontal exams vital to preventing and putting an end to gum diseases.
Your dentist will complete a periodontal exam with each visit, emphasizing the importance of regular, routine visits to your dentist's office.